2021 Honda Civic for sale near Sacramento
Let yourself feel the excitement when you step into the sleek 2021 Honda Civic! Innovative technology, impressive power, and agile handling all peak together to create an unmatched driving experience! Designed with performance as paramount, the 2021 Honda Civic for sale near Sacramento features a fully independent suspension with available paddle shifters, and pumps out 174 horsepower with an available Turbocharged engine! The Continuously Variable Transmission gives you plenty of power without cutting your fuel efficiency. So the question is, why haven't you left your house yet?! Come on down to Folsom Lake Honda and let us take you into the world of the 2021 Honda Civic!
2021 Honda Civic Exterior
The 2021 Honda Civic brings unique style at every angle, with signature C-shaped tail lights, a low and aggressive stance, and modern LED headlights, tail lights with lightbar, and fog lights. Sophisticated body lines add a sharp look, while the front fascia is bold and unafraid. The polished profile of the 2021 Honda Civic and long wheelbase suggest a sporty nature, along with available 18-inch alloy wheels, and center outlet exhaust. Go contemporary with a decklid spoiler, a tasteful addition that also adds to the aerodynamics of the 2021 Honda Civic for sale near Sacramento.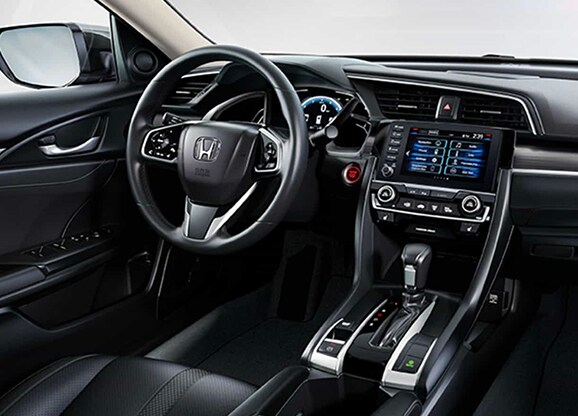 2021 Honda Civic Interior
The more the merrier in the 2021 Honda Civic for sale near Sacramento! You and four of your friends will enjoy the roomy interior, and the luxurious details of the 2021 Honda Civic interior. Available leather-trimmed and heated seating invites everyone in, and fresh air will tickle your temples as it flows through the One-Touch Power Moonroof. Decided to work on a project this weekend? The large trunk and available 60/40 split fold-down rear seats make room for all your materials. Don't feel like working? Go for it and take that road trip you have always wanted! The Apple CarPlay and Android Auto Integration will let you play that roadtrip playlist, call mom to let her know you're ok, and get you where you need to go with navigation at your fingertips. The Smart Entry with Walk Away Auto-lock will keep your valuables safe when you stop at those quirky roadside attractions.
Folsom Lake Honda Dealership
The 2021 Honda Civic is for sale now at Folsom Lake Honda. Customers from Sacramento, Folsom, Roseville, Shingle Springs, and Elk Grove can confirm with confidence our friendly service and intelligent staff. We are happy to assist you in the car buying process, whether its questions about finance, pre-owned or new vehicles, parts or service. Come on down to Folsom Lake Honda to experience the best in service and all of the Folsom Lake Honda Deals we have to offer. Your 2021 Honda Civic is ready and waiting here at your local Honda Civic dealer, Folsom Lake Honda!